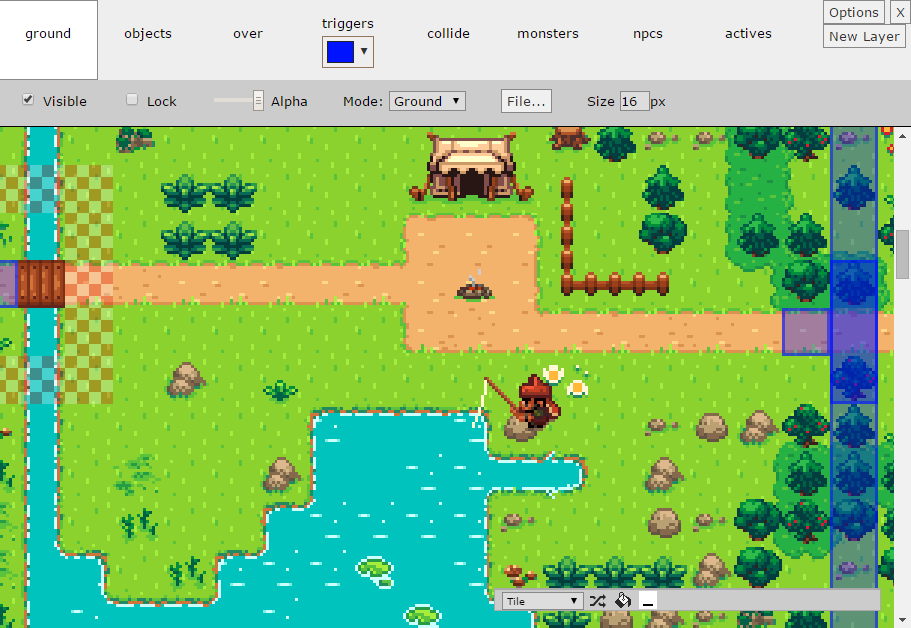 Starting with CastleDB 1.1, you can now have a 2D Map Editor that uses CastleDB data for all its input.
Download the sample project, we will use it as a reference in the following description.
Important: The difference between using CastleDB to create your levels and an external editor is that you can assign images/tiles to each of your data, then place them using the CDB map editor. This allows you to have a unified framework for creating the whole content of your game.
Create Level
When creating a new sheet, check the Create Level option in order to create a level sheet. This will automatically create the necessary columns that let you to create and edit tile layers.
Layers

A layer is a set of information that is stored in one of the fields of the Level sheet. There are several kind of layers:
Tile Layer

These layers can be created as soon as you create a new level. Each layer has a name and can be assigned to a tileset. A tile layer can be displayed using three different modes : Tiles, Ground, Objects learn more

List Layer

If you add a List column to your level sheet that has x and y numerical properties a list layer which you can visually edit will be created. You can add extra properties/columns to the List that you will be able to input directly into the editor. In particular, if you add a Reference to another sheet which has a Tile or Image, you will be able to place these directly into your map.

Index Layers

If you want to to paint things and have them stored in a compact array instead as of a list of positions, add a column of type Layer to your level sheet. As a restriction, you will not be able to add custom per-cell properties. If you are not on the first layer, the first element of your layer (which has 0 index) will not be displayed and will act as a transparent element.

Zone Layer

A zone layer is similar to the List Layer except that it has additional width and height numerical properties. It will be displayed as a given zone in the map editor.
In the sample level, our layers consists of :
layers several tile layers for the ground and unbreakable elements
triggers zone layers for placing in-game (blue) triggers
collide an index layer of collisions (which are also defined in CDB)
npcs a list layer of characters that enable us to place them into a map with extra properties
Layer Display
A layer extracts the information from the reference it targets:
If the reference has a field of type Image, it will use the image for display
If the reference has a field of type Color, it will use the color for display
If there is no information available, you will be able to customize the layer global color
Grid and Precise coords
Index layers are always grid-aligned. Other layers can have more precise positions if you use Float instead of Int for their positions. In that case it's still be possible to activate the Lock Grid option.
By default, the grid size is set to 16 pixels. This can be modified in the level options.
Layer Compression
By default, layer data is stored uncompressed. If you are creating a lot of tile/index levels this can result in very big files. You can enable/disable the compression of these layer data by doing File / Enable Compression. This will compress using the LZ4 algorithm which is easy and fast to decompress.
Common layers options
You can modify the following properties when clicking on any layer:

Visible toggle visibility. Please note that this is only used for editing, it is not stored as part of the CDB data.
Lock allows to lock the layer, making it impossible to modify it until it's unlocked.
Alpha changes the alpha value of the layer. Unlike Visible, it is stored in CDB data.
Additionaly, you can right-click on a layer to get the following options: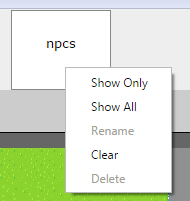 Show Only will hide all layers except this one.
Show All restores all layers to visible.
Rename changes the layer name (tile layer only, other layers names can be changed by renaming the corresponding column)
Clear clears the layer data.
Delete removes the layer clear (tile layer only, other layers can be removed by deleting the corresponding column)
Tile Layers
A tile layer consists of an array of tiles from a single tileset.
You can change the following properties when clicking on a layer:

Mode a tile layer can work in three different modes. The default mode is Tiles, other modes are detailed below
File allows you to change the tileset for this layer
Size by default CDB uses 16x16 tiles. You can change it on a per layer basis. Please note that you should also change your level tile size by using the Options menu.
Objects Mode
Objects mode is a different way of storing your tiles.
While in Tile Mode, the layer data consists of an array of width x height tiles, the object mode is a list of X,Y,Tile.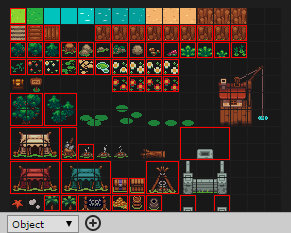 In order to use Object Mode, you must first group one or several tiles into an Object by using the tile palette. Select the Object mode and you will be able to group several tiles by using the (+) button or pressing O
You can now put your objects into your Tile Layer. Objects are sorted accordingly to their lower Y, so it means that unlike in Tile Mode you can have several objects that mask each other.
Object positions are in pixels, not in the grid. You can still align the objects to the grid by using the G key.
You can also flip and rotate the tiles that are put into the Object Layer by using F and D keys.
The encoding of Object Layer is a list of base64 encoded 16-bits values as follows:
0xFFFF : marks this layer as Object Layer, followed by the below information, for each object :
X the X position of the object in the level in pixels
Y the Y position of the object in the level in pixels
ID the object id, which is its position in the tileset
Each of these three values can have their higher bit set: the object rotation is encoded into the higher bit of X and Y. The flip flag is encoded into the higher bit of the ID value.
Ground Mode
The ground mode is similar to the tiles mode except that you can configure Grounds and Borders so they get automatically generated for you.
Try changing the ground layer in the sample between Ground and Tile to see the difference.
At the moment, documentation on how to setup grounds and borders is not available yet.
Per-tile Properties
Each tile of each tileset can have some properties which are shared between levels.
You can specify these properties by modifying the level tileProps columns.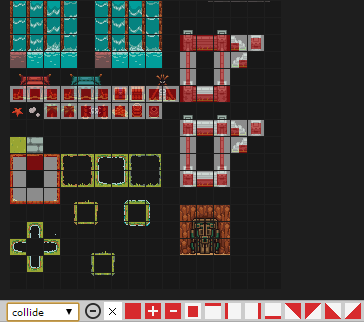 In the sample, we have created a collide column which references our collide sheet and allows us to specify a per-tile collision.
In order to edit the per-tile properties, select the property name in the drop down menu of the tile palette. You will be able to set the property value for each tile. Please note that this information is shared between levels, so modifying a tile property for a level will also modify it for other levels.
List layers
List layers allows you to place some instances referencing another sheet in your level.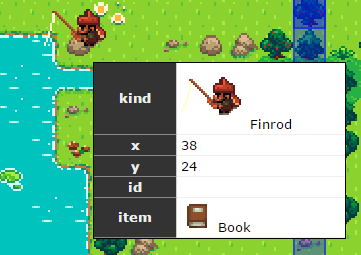 In our example level, we have an npcs column which is a List containing kind x y and item values.
kind references the npc sheet, so the npc image will be used to display the instance in the level editor.
Once an instance is put into the level, you can use the E key with your mouse over it to edit its properties.
Unlike tile layers, list layers are normal CDB data which can also be edited directly through the spreadsheet editor.
Zone layers
Zone layers are similar to list layers except that they also have width and height properties, allowing them to cover a zone of your level.
Their properties can also be edited with the E key.
Shortcuts
Right-click pick tile under cursor
Tab next layer
Shift+Tab previous layer
V toggle visibility for current layer
L toggle lock for current layer
G toggle grid lock (tile layers in Objects mode and List/Zone layers with Float positions only)
I toggle palette visibility
P paint with current tile
R toggle random mode (select a random element as part of current palette selection)
+/- (numpad) zoom/dezoom level
/ (numpad) return to default zoom
E edit list/zone layer instance properties
Esc clear selection
Space hold to scroll
F flip current tile (tile objects only)
D rotate current tile (tile objects only)
O create object group in tile palette